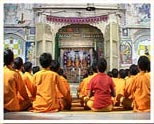 "Salasar Balaji" as a divine journey summarizes a blissful experience. It is one of the most significant place of Lord Hanuman. This shrine is situated in the scenic region of Rajasthan, the land of Kings, brave warriors and known for its rich cultural heritage. This famous hanuman temple is renowned as "Salasar Balaji", located in churu district, near Jaipur- Bikaner highway. The history of this temple dates back to 1811 in a village called Asota, where a farmer while ploughing his field, got stuck by some rock under the earth and when cleared by his wife, emerged an idol of Lord Hanuman. The Thakur of that village dreamt being asked to shift the idol to Salasar for proper religious incarnation.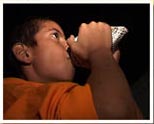 At the same time a devotee worshiper of Lord Hanuman called Mohan Das also dreamt about the Lord and was asked to do the same. The idol was thus sent to Salasar with all care and devotion.
The village was transformed into Salasar Dham, this sacred place was later developed gradually into a temple, which has now grown into a big pilgrimage centre. It's a belief that devotes who come here for worship with true faith, their desires are fulfilled by Lord Balaji. During the festival of Chaitra Purnima & Ashwin Purnima large fairs take place in the area where more than 6 to 7 lacs of people assemble here to pay their homage to the deity. Hanuman Sewa Samiti looks after the management of the Temple and the fair.
The film is all about a divine journey which starts from Mumbai to its 1st phase Jaipur, the journey moves through vivid landscape of Rajasthan showing its rich cultural heritage. It moves further to its 2nd phase Rewasa Peeth i.e (Siddh Peeth) - which is 500 years old temple, known as "Jankinath Temple" and finally reaches to its most awaited divine destination i.e "Salasar Balaji" the sacred temple of Lord Hanumanji. This film is a journey of enlightenment where one would feel to visit this historic & divine place for at least once in his lifetime & experience the change in life.