No takers for Wages of tears

Published on Wed, Nov 22, 2006 at 14:30, Updated on Wed, Nov 22, 2006 at 15:05 in Nation section

Tags: Child Labour, Wages Of Tears , Mumbai
Mumbai: Child labour has been banned in our country by enactment of fresh and tougher laws. However, the ground reality remains much the same. Hundreds of children are forced to work in hazardous conditions in Mumbai, while many of them die an early death.
It was this sad truth that moved a group of ad filmmakers in Mumbai to make a documentary film highlighting the deplorable lives of six children who were forced into bonded labour.
Sister Annie, a nun joined hands with ad filmmakers Anant Joshi, Jayprakash and Prithesh Sheth to produce documentary film Wages of tears. The film features real life stories of children forced to work under hazardous conditions and the atrocious treatment meted out to them by employers on an everyday basis.
"We conducted over 100 interviews, and every children that we would listen bring tears to our eyes. Every child had a painful story to tell. We want people to know how essential it is to make these stories heard," Prithesh Sheth Executive Producer Wages of Tears said.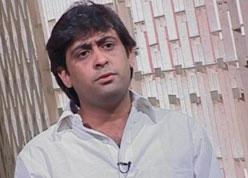 Ad filmmaker Prithesh Sheth's Wages of Tears still hasn't found any takers.
Sadly, the film still hasn't found any takers as yet. However, the filmmakers are making efforts to get their documentary a theatrical release.
"Its not normal to see a nun to making film. We have seen the plight of these children working in these circumstances. We wanted to do something for them and its important for people to know what they go through," Sister Annie Ponmani Director Pauline Communications said.